Fiber Optic Components
Optical Isolator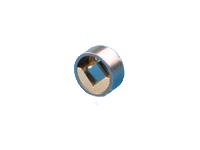 An optical isolator is an optical component which allows the transmission of light in only one direction so that is required for the manufacturing of Butterfly Module, Optical Pump Module and other type of modules.
We have two types of Optical isolators, such as with Metal fixture (using soldering and Yag welding fix) for higher reliability, and with adhesive type according to customer variously needs.
We have the capability to design isolators of Free Space Type, Surface Mounted Type, and Receptacle Type.
Further Information

Optical Isolator